Sturgeon Bay, Wisc.—May 13, 2017—David Eggers of Granger, Indiana, and Tad Hepler of Niles, Michigan, sacked a 5-fish limit weighing 26 pounds, 13 ounces to win the Cabela's North American Bass Circuit's 2017 season opener presented by Mercury Marine May 13th on Lake Michigan's Sturgeon Bay.
"We've finished second twice at Sturgeon Bay before, so it feels really good to finally win one," said Eggers. "It's such an incredible fishery," Hepler added. "If the NABC comes back, we'll fish it for sure. We can make a pretty good vacation out of coming up and fishing here."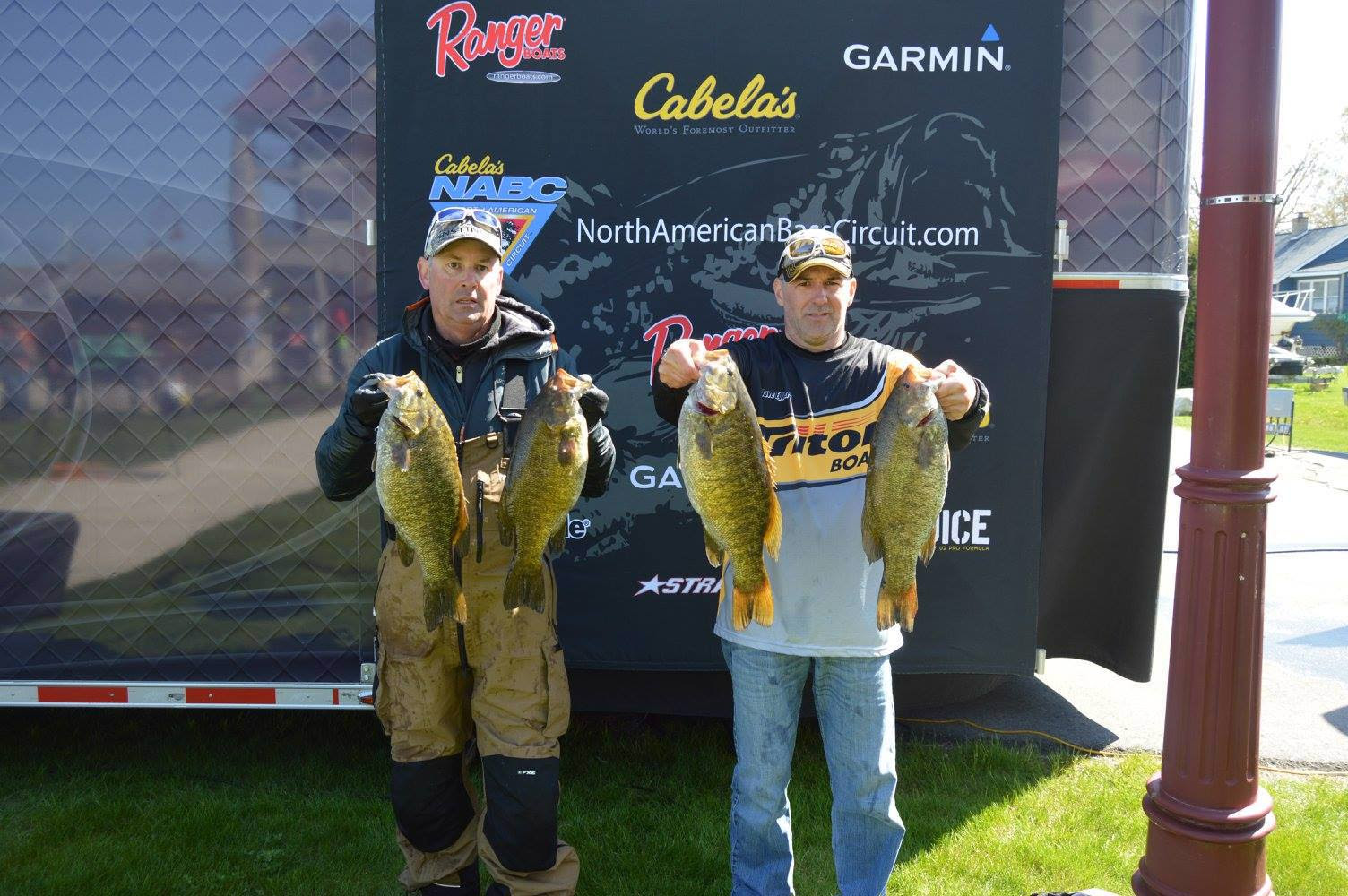 Limited success during practice forced Eggers and Granger to fall back on a past hotspot. "We didn't have much going, so we fished a transition line in 6 to 8 feet of water that had produced big fish in the past," Eggers explained. The pair fished homemade soft-plastic craws and darters on leadhead jigs, and boated most of their bass before 9 a.m.
"Timing is everything," Hepler noted. "These fish move around looking for warm water. The water temp was 52 degrees the day of the tournament. It dropped overnight and when we went back the next day, we didn't catch a single fish in that spot, or even see one."
The hefty catch of prespawn smallmouths propelled Eggers and Hepler past their rivals in the field and earned them the $5,054 first-place cash payout.
Rounding out the top five teams were:
2nd: Alan Neumann and Josh Crededio, 25-04, $2,520 cash
3rd: Trent Glover and Jim Lokken, 25-01, $1,400 cash plus another $950 in big fish money
4th: Troy Norman and Andrew Carlson, 24-09, $1,050 cash
4th: Adam Hermsen and TJ Maglio, 24-09, $1,050 cash plus another $510.00 for 2nd place big fish money
Eighth-place finishers Jason Corrao and Shaun Kruzitski collected $500 in payout earnings, plus $2,568 in cash for taking first place in the NABC option pot. Bob Ahrndt and Chad Kurowski along with Scott Bonnema and Mark Fisher tied for second in the option pot and split the $1,700 cash prize which settled out to be $850 per team.
In all, the Cabela's NABC awarded a total payout of $19,902 in cash and prizes.
A total of 182 bass weighing 731 pounds, 11 ounces crossed the scale at Wave Point Marina and Resort and were returned to the Sturgeon Bay system in the Cabela's NABC's catch-and-release format. Big bass was a 7-pound, 3-ounce trophy smallmouth caught by Trent Glover and Jim Lokken, who won $850.00 from the big fish pot and another for the $100 Wave Pointe Big Fish Bonus.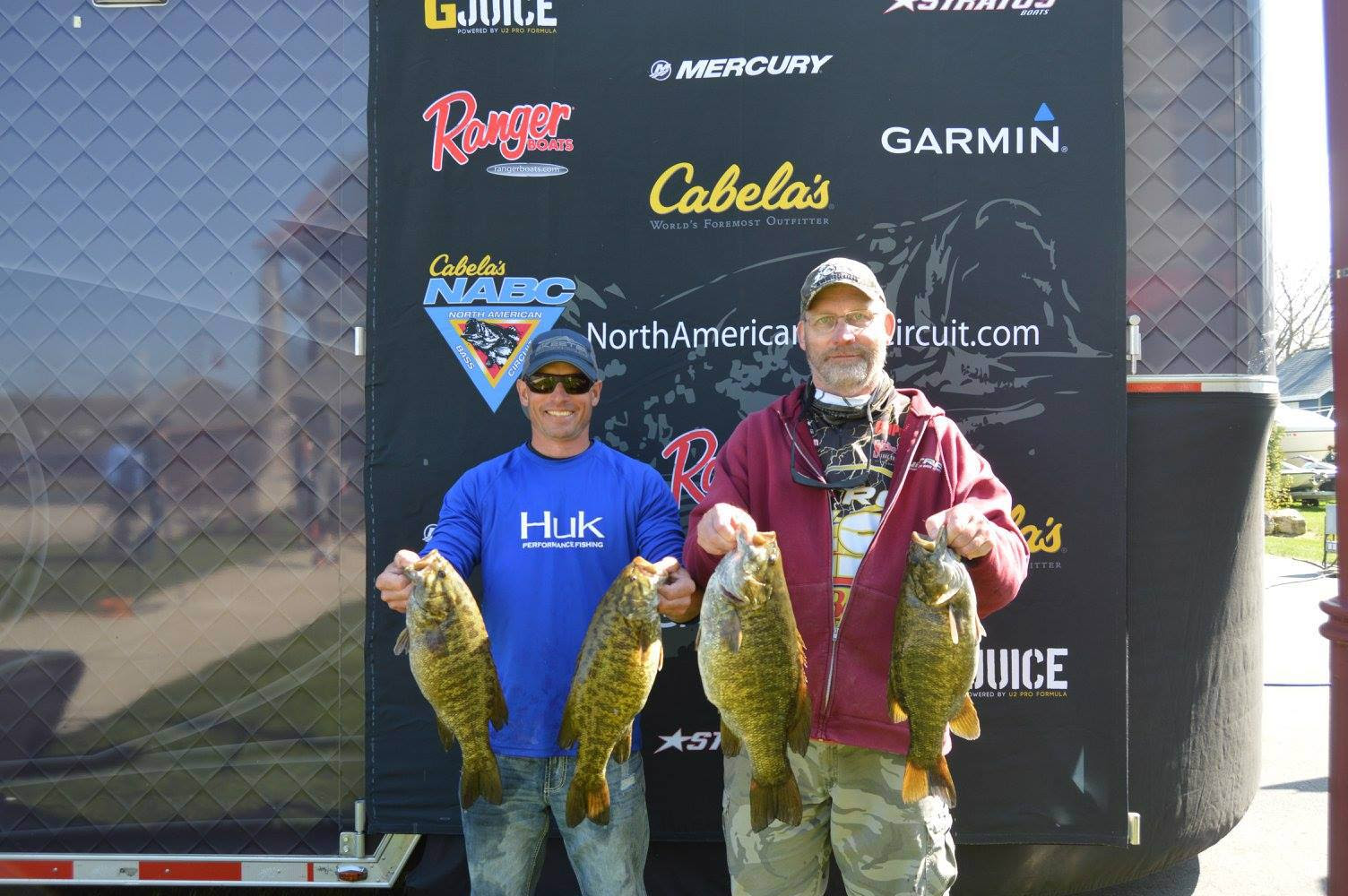 This was the first of four 2017 Cabela's NABC regular-season qualifiers. The remaining schedule includes Lake Vermilion, Minnesota, June 17; Bays de Noc, Michigan, July 29; and Mille Lacs Lake, Minnesota, August 19. A special NABC Open and the Tournament of Champions are set for September 9-10 on the Mississippi River at Prairie du Chien, Wisconsin.
Cabela's, the World's Foremost Outfitter for hunting, fishing and outdoor gear, is in its seventh season as title sponsor of the NABC. Other sponsors include: Ranger Boats, Stratos Boats, Mercury Marine, Garmin and G-Juice.
Based in Ponca City, Oklahoma, the Cabela's NABC is open to two-person teams regardless of club or sponsor affiliation. Entry fees are $400 per regular season tournament and for the NABC Open.
Along with an overall payback to anglers well in excess of 100 percent, a small donation is included in each entry fee and matched by the NABC and other conservation organizations up to 3-to-1 in support of bass conservation projects anywhere the NABC does business.
For more information, visit northamericanbasscircuit.com, email [email protected]com, or call (580) 765-9031.