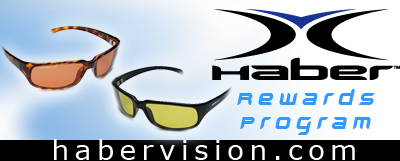 2008 Program Rules & Eligibility Requirements
1
. Angler must have purchased HaberVision sunglasses in 2008. Sunglasses available at special program pricing can be
purchased here
at the HaberVision Store .
2
. Angler must wear HaberVision sunglasses during each day of the event and be visible at all times. This includes visibility in front of the public and media. For any podium appearances eyewear must either be on face, around neck or on your hat/head.
3
. Angler must register for the contingency money award prior to fishing the event. Registration may be completed online, via phone by contacting OutdoorsFIRST Media at 715-362-1760, or in person at any of the qualifying events. Please refer to the qualifying tournament page for on-site contact information for each 2008 event.
4
. Angler must provide a photocopy of the sales order or packing slip and indicate which qualifying events he or she will be fishing. Documents may be faxed to 888-213-2587 or emailed to
[email protected]
Indicate HaberVision Walleye Rewards in the subject line of the email.
5
. One payout per event, to the highest finishing Pro Angler of each event.
6
. Maximum of 2 contingency winnings per angler, per year, not including championships.
7
. Registered competitor agrees that HaberVision will have a license to use competitors name, photos, signature, quotations, remarks and similar materials for marketing, advertising, promotion and sale of products distributed by HaberVision LLC.
8
. Determination of eligibility is at the sole discretion of OutdoorsFIRST Media. All determinations are final. Program details subject to change without notice.